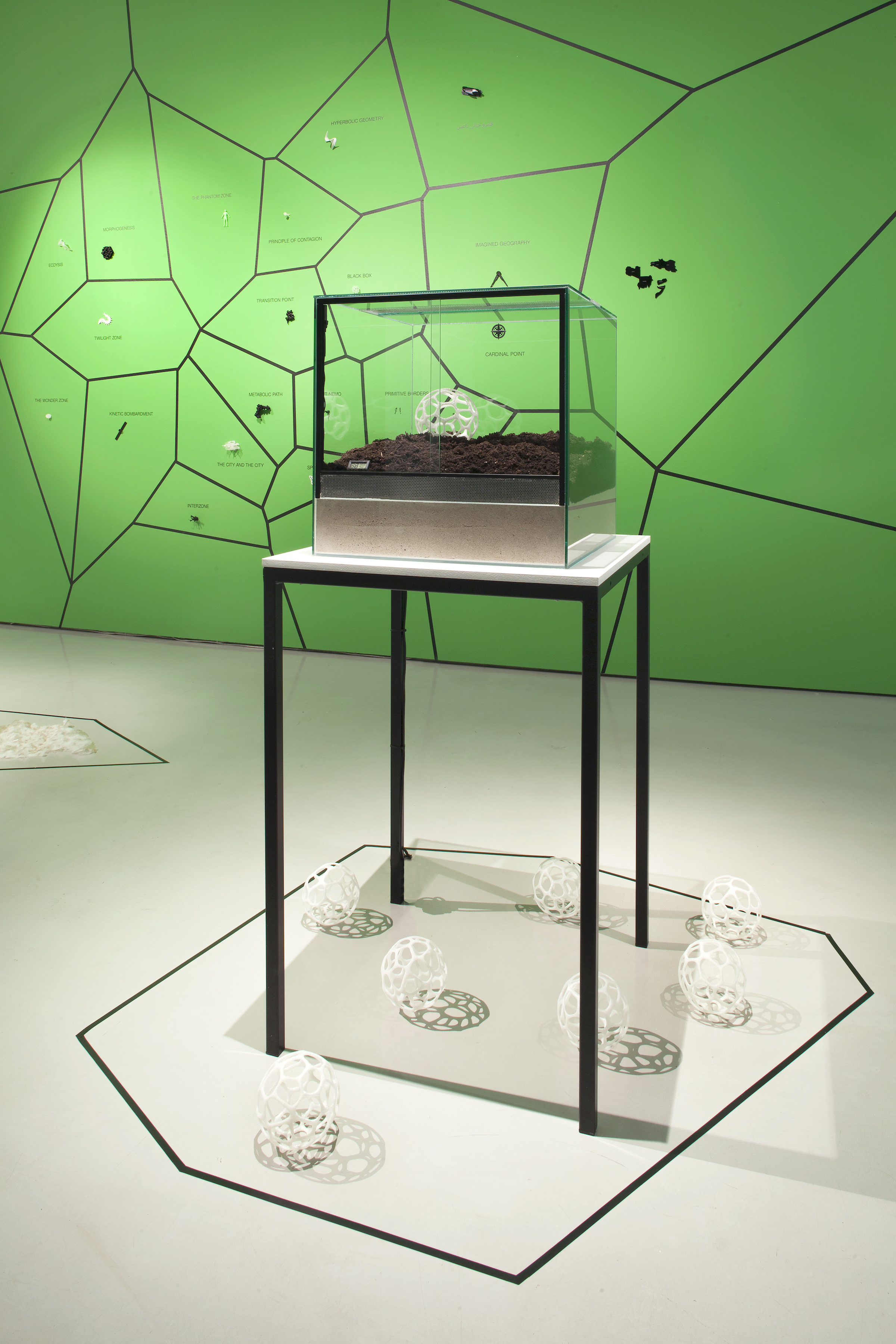 Black Box (01)
Photos: Luca Girardini, CC BY NC-SA 4.0 — at Schering Stiftung.
Terrarium, compostable plastic 3D prints, thermometer/hydrometer, microbes, soil, soil heating cable, sand_STL file: Zotrax Voronoi Sphere by ZRAFT_55 x 55 x 55cm_2017
Black Box (01) is a sculpture that attempted to mimic the conditions of an industrial compost facility. Compostable 3D prints made from PLA (polylactic acid) –a common 3D-printing plastic derived from corn sugar through a fermentation process alleged to be compostable at an industrial scale - are installed inside the glass 'terrarium' throughout its display. Under the right conditions (high temperature, condensation, microbes) they may break down, but without such conditions they are similar to ordinary plastics. No decomposition was witnessed during this site-specific installation at Schering Stiftung, which implies that either the conditions were incorrect, or the compostable plastic is not viable as a degradable material.
Installation view, On the Far Side of the Marchlands, Ernst Schering Foundation, Berlin, 2017
Courtesy the artist, transmediale, and Ernst Schering Foundation, Berlin
Photo: Luca Girardini, CC BY NC-SA 4.0
Black Box
Installation view, On the Far Side of the Marchlands, Ernst Schering Foundation, Berlin, 2017
Courtesy the artist, transmediale, and Ernst Schering Foundation, Berlin
Photo: Luca Girardini, CC BY NC-SA 4.0
Installation view, On the Far Side of the Marchlands, Ernst Schering Foundation, Berlin, 2017
Courtesy the artist, transmediale, and Ernst Schering Foundation, Berlin
Photo: Luca Girardini, CC BY NC-SA 4.0
Installation view, On the Far Side of the Marchlands, Ernst Schering Foundation, Berlin, 2017
Courtesy the artist, transmediale, and Ernst Schering Foundation, Berlin
Photo: Luca Girardini, CC BY NC-SA 4.0
Installation view, On the Far Side of the Marchlands, Ernst Schering Foundation, Berlin, 2017
Courtesy the artist, transmediale, and Ernst Schering Foundation, Berlin
Photo: Luca Girardini, CC BY NC-SA 4.0